We just love and appreciate the landscape, be it rural or urban, the back garden, over the roadside hedge, or the far-off mountainside. Especially when it has trees in it. The one thing we're not is stuffy. And, while we have a special interest in promoting trees that are native to Ireland, we don't turn up our collective nose at anything to do with trees, whether they are foreign nationals or natives of deepest Leitrim.
Crann, the magazine, is a high-quality publication mailed directly to members of Crann, the organisation. The wonderful thing about Crann, the magazine, is that it's mainly written by the members themselves – who also supply the pictures. The entire package is then put together by a professional team comprising the Editor, the Designer and the Printers.
If you have an article in mind that you would like to see published in Crann, here's what to do.
Advertising rates
Full colour
Back Cover (A4 size) €850
Full page (A4 size) €800
Half (A4 size) page €400
Quarter (A4 size) page €250
VAT zero rated
Crann is a non-profit charitable organisation formed to raise awareness of the importance of trees and hedgerows. Founded in 1986 by Jan Alexander, Crann is now one of Irelands leading environmental organisations with excellent media coverage and a growing membership.
Crann magazine is mailed to all Crann members and complementary copies are sent to a large number of the leading figures and businesses operating in the forest industry such as the Forest Service, the forestry companies and Government ministers. Copies are also mailed to libraries throughout Ireland and most media representatives.
By advertising with Crann you are assured of a wide readership while at the same time helping with our work towards "Releafing Ireland" and "Standing up for Trees". Crann magazine is supported by a wide range of businesses and organisations and we could not continue with our work without their help.
Contact us for further details, artwork requirements etc.
Latest issue – Autumn/Winter 2020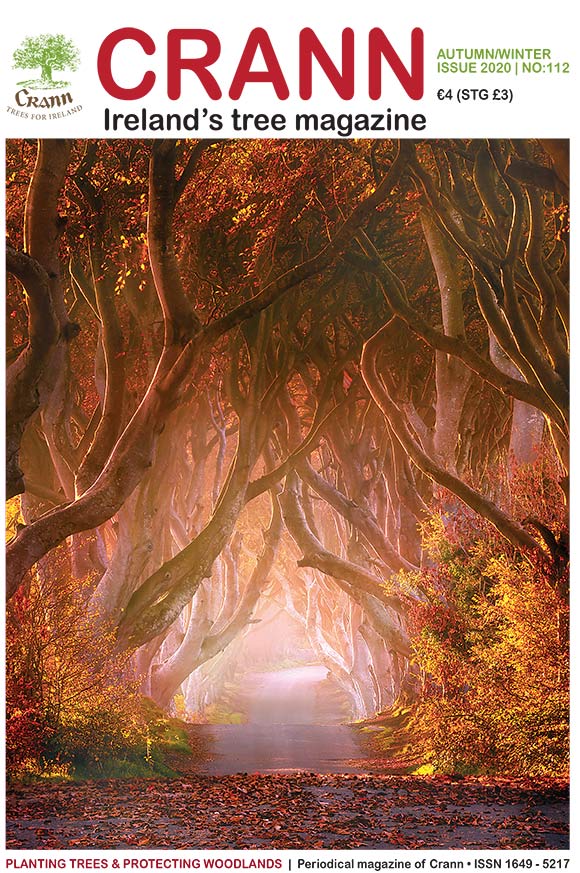 In this current issue we feature a report of our AGM, which was held on 30th October 2020 via Zoom.
We have an update on the Giants Grove project at Birr Castle.
We are delighted to welcome our new Director, Marie Louise O'Donnell to the Crann Board.
Dale Treadwell was as busy and creative as ever over Lockdown.
We feature the 2020 Crann/Coillte Photographic Competition results! Indulge in some beautiful images which just make you want to get outdoors and enjoy nature!
Emma Reeves writes on the near-perfect beauty of a plantation at Tara Mines, Navan, Co. Meath.
George Cunningham reveals fascinating stories about the forgotten 'skin' of trees.
Ger Clarke opens our minds to different ways to see the trees and things all around us. It's time to take 'A New Look'.
Orla Farrell of Easy Treesie found interesting ways to celebrate trees during the limitations of Covid.
Peadar Collins discovers that 'Joy and Significance' say one thing to him: Doneraile Park, Co. Cork.
Urban Trees – Michael Yallop ponders on the extraordinary attitude of some people to street trees.
Tidy Towns – not much could happen in 2020 but Minister Humphreys commits to a better 2021!
Joe Barry says it's time to counteract the concerted moves that are demonising forestry.
Matt Fogarty RIP – Mark Wilkinson recalls the Tipperary man's determination to grow trees no matter what.
Letters: A Crann member takes Mark Wilkinson to task about his column in our summer issue.
The Speaking Tree – George Cunningham was really shocked to read Michael Harding's opinions on trees.
How to submit articles
If you have an article in mind that you would like to see published in Crann Magazine then please contact us with your details which will be sent to our editor and you will also receive an email that outlines what we require for our print and online publications.
Considerations
Photographs to accompany the article – the number and the technical quality.
The photographs should be at least 1MB each and should be sent as attachments to emails along with a caption for each picture.
The article should be at least 1,000 words and no more than 1,500 words.
We love to hear from interested authors, so please tell us what you would like to write about and our editor will be in touch to help you in your endeavour.
How to subscribe
When you join Crann, one of the benefits is being on the mailing list for Crann magazine. We're proud of our magazine and we are very confident that you will like it too.